Frame light barriers
Frame light barriers from Dietz form a gapless infrared light curtain using numerous transmitter and receiver diodes in the opposing arms. Even the smallest parts can be detected optimally in the middle of the frame independent from the material, the surface or the colour of the object.
Easy installation, short response time and a very high resolution are the crucial advantages compared to conventional techniques using many single through-beam light barriers. A mutual interference of the beam pathes is ruled out. In tight spaces, the frame light barriers can operate also in the open U-shape when the traverse is removed. An integrated sensivity adjustment, a variable impulse lengthening and a high immunity to ambient light due to modulated light guarantee a secure processing of the output signal.
---
Frame light barriers: typical applications
Mounting and feeding automation
Punching machines
Packaging machines and special machinery construction
Production lines
Frame light barriers: application examples
Monitoring of smallest parts in free fall
Detection of small parts conveyed by compressed air
Ejection control
Tool fixation at machine presses and punching machines
Size separation
Thread breakage detection
Length and size measurement
Feed control
---
Detection of objects in free fall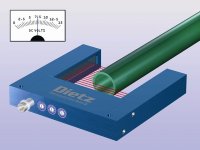 Length measuring with analog output
Detection of parts in a transparent feeding hose